Your network tariff represents the fees that your local network (who manage the poles and wires) charge us to deliver each kWh of power you use. Our team has been hard at work on supporting a bigger selection of Australia's 270+ different network tariffs in the Amber app. We've now personalised the wholesale prices shown in the app by adding support for your household's specific network tariff.
Previously, your wholesale prices and usage costs shown in the app were based on the most common network tariff in your postcode, which was a flat or "Anytime" tariff. With this tariff, network fees are the same for every kWh you use, regardless of when you use it.
From today, the wholesale prices and usage costs you see in the Amber app will be fully personalised to your household. Your household is on a Time of Use (ToU) tariff, meaning your network fees are lower during off-peak times, and higher during peak times. The personalised wholesale prices now shown in the app will reflect your changing network fees throughout the day.
This doesn't change what you've been paying, or what you can expect to pay with Amber in the future. It means that from now on the prices and usage costs you see in the app should always align exactly with what you've been seeing on your bills.
We hope this change makes the Amber app even more useful for planning your usage and understanding your household's real-time wholesale energy costs.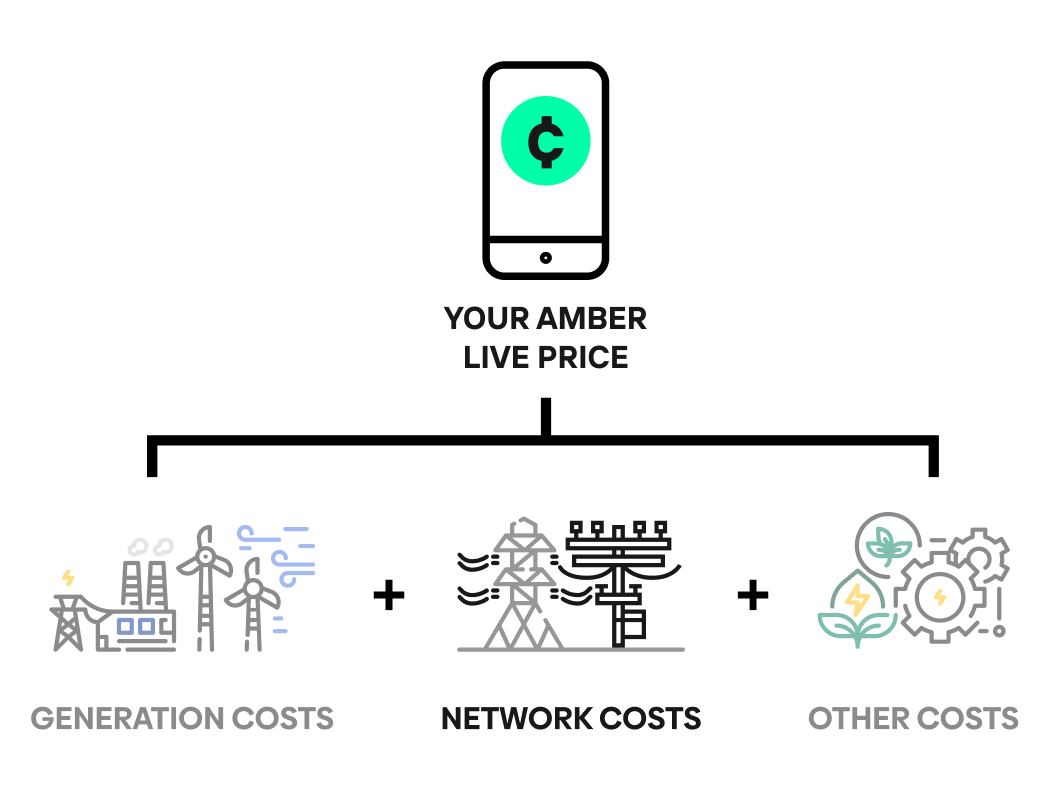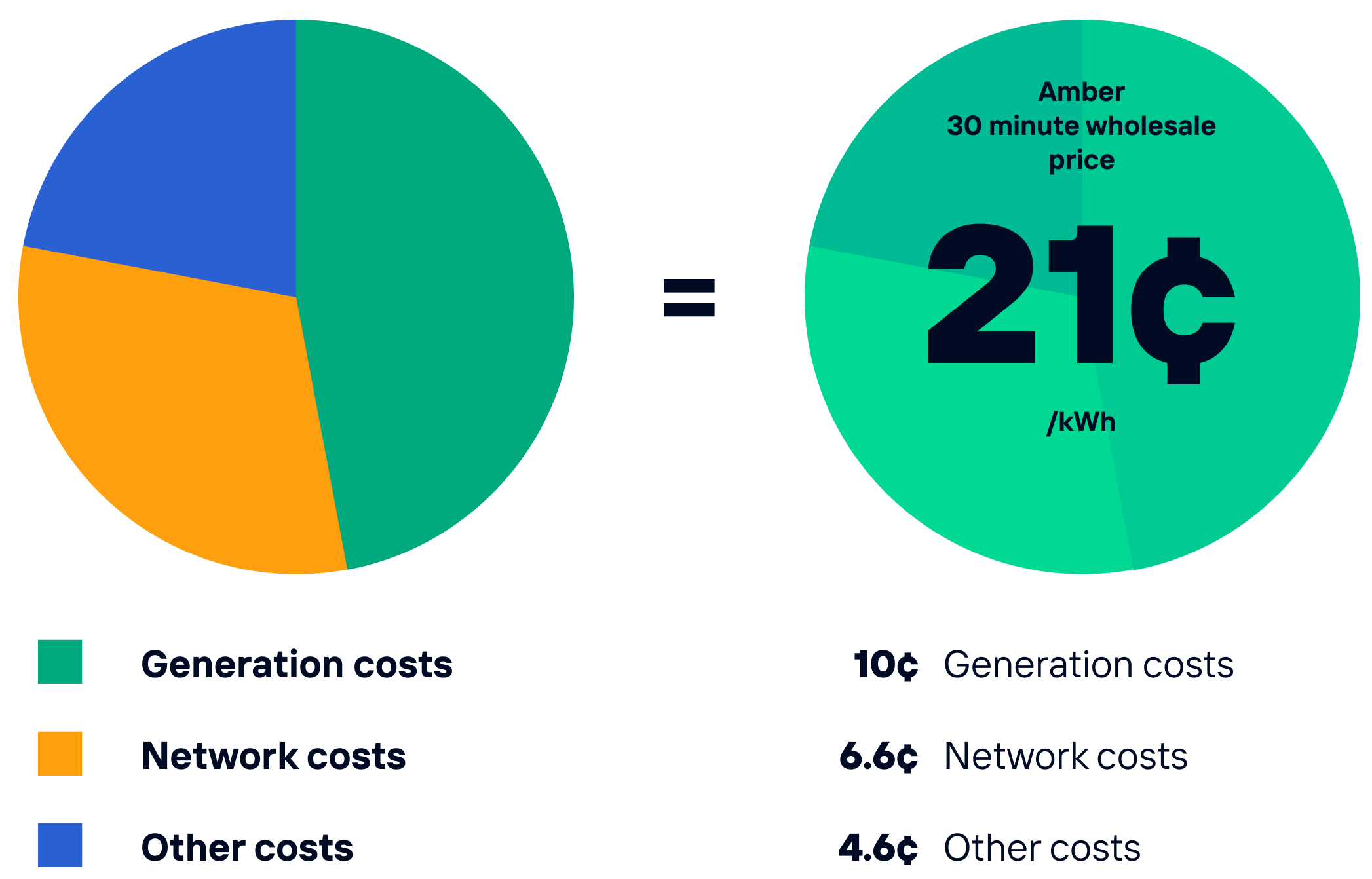 prices shown in the above pie chart are indicative based on a flat network tariff. If you are on a Time of Use tariff the network cost will vary based on when you use electricity as outlined in the tables below
CitiPower
Tariff Code: CRTOU
All Year, Other times
| | Period | Network Tariff (inc. GST) |
| --- | --- | --- |
| | All Year, Other times, Peak | 17.53¢/kWh |
| | All Year, Other times, Off-Peak | 4.38¢/kWh |
Tariff Code: CGTOU
All Year, Weekday
All Year, Other times
| | Period | Network Tariff (inc. GST) |
| --- | --- | --- |
| | All Year, Other times, Peak | 14.32¢/kWh |
| | All Year, Other times, Off-Peak | 3.18¢/kWh |
Essential Energy
Tariff Code: BLNT3AU
All Year, Other times
All Year, Weekday
| | Period | Network Tariff (inc. GST) |
| --- | --- | --- |
| | All Year, Other times, Peak | 16.43¢/kWh |
| | All Year, Other times, Shoulder | 13.72¢/kWh |
| | All Year, Other times, Off-Peak | 5.28¢/kWh |
Tariff Code: BLNT3AL
All Year, Other times
All Year, Weekday
| | Period | Network Tariff (inc. GST) |
| --- | --- | --- |
| | All Year, Other times, Peak | 17.53¢/kWh |
| | All Year, Other times, Shoulder | 14.73¢/kWh |
| | All Year, Other times, Off-Peak | 7.70¢/kWh |
Tariff Code: BLND1AR
All Year, Other times
All Year, Weekday
| | Period | Network Tariff (inc. GST) |
| --- | --- | --- |
| | All Year, Other times, Peak | 5.37¢/kWh |
| | All Year, Other times, Shoulder | 4.23¢/kWh |
| | All Year, Other times, Off-Peak | 2.61¢/kWh |
Tariff Code: BLNT2AU
All Year, Other times
All Year, Weekday
| | Period | Network Tariff (inc. GST) |
| --- | --- | --- |
| | All Year, Other times, Peak | 17.53¢/kWh |
| | All Year, Other times, Shoulder | 14.73¢/kWh |
| | All Year, Other times, Off-Peak | 7.70¢/kWh |
Tariff Code: BLNT2AL
All Year, Other times
All Year, Weekday
| | Period | Network Tariff (inc. GST) |
| --- | --- | --- |
| | All Year, Other times, Peak | 18.16¢/kWh |
| | All Year, Other times, Shoulder | 14.21¢/kWh |
| | All Year, Other times, Off-Peak | 7.46¢/kWh |
Tariff Code: BLND1AB
All Year, Other times
All Year, Weekday
| | Period | Network Tariff (inc. GST) |
| --- | --- | --- |
| | All Year, Other times, Peak | 7.98¢/kWh |
| | All Year, Other times, Shoulder | 6.12¢/kWh |
| | All Year, Other times, Off-Peak | 3.59¢/kWh |
Tariff Code: BLNT1AO
All Year, Other times
All Year, Weekday
| | Period | Network Tariff (inc. GST) |
| --- | --- | --- |
| | All Year, Other times, Peak | 17.53¢/kWh |
| | All Year, Other times, Shoulder | 14.73¢/kWh |
| | All Year, Other times, Off-Peak | 7.70¢/kWh |
Tariff Code: BLNDTRS
All Year, Other times
All Year, Weekday
| | Period | Network Tariff (inc. GST) |
| --- | --- | --- |
| | All Year, Other times, Peak | 7.41¢/kWh |
| | All Year, Other times, Shoulder | 6.26¢/kWh |
| | All Year, Other times, Off-Peak | 3.80¢/kWh |
Tariff Code: BLND3AO
All Year, Other times
All Year, Weekday
| | Period | Network Tariff (inc. GST) |
| --- | --- | --- |
| | All Year, Other times, Peak | 5.38¢/kWh |
| | All Year, Other times, Shoulder | 4.56¢/kWh |
| | All Year, Other times, Off-Peak | 3.02¢/kWh |
Tariff Code: BLND3TO
All Year, Other times
All Year, Weekday
| | Period | Network Tariff (inc. GST) |
| --- | --- | --- |
| | All Year, Other times, Peak | 15.64¢/kWh |
| | All Year, Other times, Shoulder | 12.79¢/kWh |
| | All Year, Other times, Off-Peak | 5.69¢/kWh |
Tariff Code: BHND3AO
All Year, Other times
All Year, Weekday
| | Period | Network Tariff (inc. GST) |
| --- | --- | --- |
| | All Year, Other times, Peak | 4.10¢/kWh |
| | All Year, Other times, Shoulder | 3.51¢/kWh |
| | All Year, Other times, Off-Peak | 2.91¢/kWh |
Jemena
Tariff Code: A120
All Year, Other times
| | Period | Network Tariff (inc. GST) |
| --- | --- | --- |
| | All Year, Other times, Peak | 14.84¢/kWh |
| | All Year, Other times, Off-Peak | 4.28¢/kWh |
Tariff Code: F120
All Year, Other times
| | Period | Network Tariff (inc. GST) |
| --- | --- | --- |
| | All Year, Other times, Peak | 14.84¢/kWh |
| | All Year, Other times, Off-Peak | 4.28¢/kWh |
Tariff Code: A210
All Year, Other times
All Year, Weekday
| | Period | Network Tariff (inc. GST) |
| --- | --- | --- |
| | All Year, Other times, Peak | 15.76¢/kWh |
| | All Year, Other times, Off-Peak | 3.36¢/kWh |
Tariff Code: F210
All Year, Other times
All Year, Weekday
| | Period | Network Tariff (inc. GST) |
| --- | --- | --- |
| | All Year, Other times, Peak | 15.76¢/kWh |
| | All Year, Other times, Off-Peak | 3.36¢/kWh |
Tariff Code: A230
All Year, All Week
| | Period | Network Tariff (inc. GST) |
| --- | --- | --- |
| | All Year, All Week, Peak | 9.24¢/kWh |
| | All Year, All Week, Off-Peak | 3.25¢/kWh |
Tariff Code: F230
All Year, All Week
| | Period | Network Tariff (inc. GST) |
| --- | --- | --- |
| | All Year, All Week, Peak | 9.24¢/kWh |
| | All Year, All Week, Off-Peak | 3.25¢/kWh |
Tariff Code: A23N
All Year, All Week
| | Period | Network Tariff (inc. GST) |
| --- | --- | --- |
| | All Year, All Week, Peak | 17.41¢/kWh |
| | All Year, All Week, Off-Peak | 3.63¢/kWh |
Tariff Code: F23N
All Year, All Week
| | Period | Network Tariff (inc. GST) |
| --- | --- | --- |
| | All Year, All Week, Peak | 17.41¢/kWh |
| | All Year, All Week, Off-Peak | 3.63¢/kWh |
Tariff Code: A270
All Year, All Week
| | Period | Network Tariff (inc. GST) |
| --- | --- | --- |
| | All Year, All Week, Peak | 9.72¢/kWh |
| | All Year, All Week, Off-Peak | 3.70¢/kWh |
Tariff Code: F270
All Year, All Week
| | Period | Network Tariff (inc. GST) |
| --- | --- | --- |
| | All Year, All Week, Peak | 9.72¢/kWh |
| | All Year, All Week, Off-Peak | 3.70¢/kWh |
Powercor
Tariff Code: PRTOU
All Year, Other times
| | Period | Network Tariff (inc. GST) |
| --- | --- | --- |
| | All Year, Other times, Peak | 17.46¢/kWh |
| | All Year, Other times, Off-Peak | 4.36¢/kWh |
Tariff Code: NDTOU
All Year, Other times
| | Period | Network Tariff (inc. GST) |
| --- | --- | --- |
| | All Year, Other times, Peak | 16.83¢/kWh |
| | All Year, Other times, Off-Peak | 3.74¢/kWh |
Tariff Code: NDMO21
All Year, Other times
| | Period | Network Tariff (inc. GST) |
| --- | --- | --- |
| | All Year, Other times, Peak | 15.90¢/kWh |
| | All Year, Other times, Off-Peak | 4.71¢/kWh |
Energex
Tariff Code: 6900
All Year, All Week
| | Period | Network Tariff (inc. GST) |
| --- | --- | --- |
| | All Year, All Week, Peak | 15.70¢/kWh |
| | All Year, All Week, Off-Peak | 5.96¢/kWh |
| | All Year, All Week, Shoulder | 4.24¢/kWh |
Tariff Code: 6950
All Year, Weekend
All Year, Other times
| | Period | Network Tariff (inc. GST) |
| --- | --- | --- |
| | All Year, Other times, Peak | 15.70¢/kWh |
| | All Year, Other times, Off-Peak | 5.96¢/kWh |
| | All Year, Other times, Shoulder | 4.24¢/kWh |
Tariff Code: 6970
All Year, Weekend
All Year, Other times
| | Period | Network Tariff (inc. GST) |
| --- | --- | --- |
| | All Year, Other times, Peak | 15.70¢/kWh |
| | All Year, Other times, Off-Peak | 5.96¢/kWh |
| | All Year, Other times, Shoulder | 4.24¢/kWh |
Tariff Code: 8900
All Year, Weekend
All Year, Other times
| | Period | Network Tariff (inc. GST) |
| --- | --- | --- |
| | All Year, Other times, Peak | 18.06¢/kWh |
| | All Year, Other times, Off-Peak | 6.33¢/kWh |
| | All Year, Other times, Shoulder | 8.42¢/kWh |
Tariff Code: 8920
All Year, Weekend
All Year, Other times
| | Period | Network Tariff (inc. GST) |
| --- | --- | --- |
| | All Year, Other times, Peak | 18.06¢/kWh |
| | All Year, Other times, Off-Peak | 6.33¢/kWh |
| | All Year, Other times, Shoulder | 8.42¢/kWh |
Tariff Code: 8950
All Year, Weekend
All Year, Other times
| | Period | Network Tariff (inc. GST) |
| --- | --- | --- |
| | All Year, Other times, Peak | 18.06¢/kWh |
| | All Year, Other times, Off-Peak | 6.33¢/kWh |
| | All Year, Other times, Shoulder | 8.42¢/kWh |
Tariff Code: 8970
All Year, Weekend
All Year, Other times
| | Period | Network Tariff (inc. GST) |
| --- | --- | --- |
| | All Year, Other times, Peak | 18.06¢/kWh |
| | All Year, Other times, Off-Peak | 6.33¢/kWh |
| | All Year, Other times, Shoulder | 8.42¢/kWh |
Tariff Code: 8800
All Year, Weekend
All Year, Other times
| | Period | Network Tariff (inc. GST) |
| --- | --- | --- |
| | All Year, Other times, Peak | 11.66¢/kWh |
| | All Year, Other times, Off-Peak | 7.43¢/kWh |
Tariff Code: 8820
All Year, Weekend
All Year, Other times
| | Period | Network Tariff (inc. GST) |
| --- | --- | --- |
| | All Year, Other times, Peak | 11.66¢/kWh |
| | All Year, Other times, Off-Peak | 7.43¢/kWh |
Tariff Code: 8850
All Year, Weekend
All Year, Other times
| | Period | Network Tariff (inc. GST) |
| --- | --- | --- |
| | All Year, Other times, Peak | 11.66¢/kWh |
| | All Year, Other times, Off-Peak | 7.43¢/kWh |
Tariff Code: 8870
All Year, Weekend
All Year, Other times
| | Period | Network Tariff (inc. GST) |
| --- | --- | --- |
| | All Year, Other times, Peak | 11.66¢/kWh |
| | All Year, Other times, Off-Peak | 7.43¢/kWh |
Evoenergy
Tariff Code: 015
All Year, Other times
| | Period | Network Tariff (inc. GST) |
| --- | --- | --- |
| | All Year, Other times, Peak | 21.30¢/kWh |
| | All Year, Other times, Shoulder | 11.68¢/kWh |
| | All Year, Other times, Off-Peak | 5.72¢/kWh |
Tariff Code: 016
All Year, Other times
| | Period | Network Tariff (inc. GST) |
| --- | --- | --- |
| | All Year, Other times, Peak | 21.30¢/kWh |
| | All Year, Other times, Shoulder | 11.68¢/kWh |
| | All Year, Other times, Off-Peak | 5.72¢/kWh |
Tariff Code: 090
All Year, Other times
| | Period | Network Tariff (inc. GST) |
| --- | --- | --- |
| | All Year, Other times, Peak | 26.93¢/kWh |
| | All Year, Other times, Shoulder | 17.03¢/kWh |
| | All Year, Other times, Off-Peak | 7.70¢/kWh |
Tariff Code: 091
All Year, Other times
| | Period | Network Tariff (inc. GST) |
| --- | --- | --- |
| | All Year, Other times, Peak | 26.93¢/kWh |
| | All Year, Other times, Shoulder | 17.03¢/kWh |
| | All Year, Other times, Off-Peak | 7.70¢/kWh |
Tariff Code: 101
All Year, Other times
| | Period | Network Tariff (inc. GST) |
| --- | --- | --- |
| | All Year, Other times, Peak | 13.72¢/kWh |
| | All Year, Other times, Shoulder | 7.57¢/kWh |
| | All Year, Other times, Off-Peak | 4.12¢/kWh |
Tariff Code: 016
All Year, Other times
| | Period | Network Tariff (inc. GST) |
| --- | --- | --- |
| | All Year, Other times, Peak | 13.72¢/kWh |
| | All Year, Other times, Shoulder | 7.57¢/kWh |
| | All Year, Other times, Off-Peak | 4.12¢/kWh |
United Energy
Tariff Code: URTOU
All Year, All Week
| | Period | Network Tariff (inc. GST) |
| --- | --- | --- |
| | All Year, All Week, Peak | 17.37¢/kWh |
| | All Year, All Week, Off-Peak | 4.35¢/kWh |
Tariff Code: FURTOU
All Year, All Week
| | Period | Network Tariff (inc. GST) |
| --- | --- | --- |
| | All Year, All Week, Peak | 17.37¢/kWh |
| | All Year, All Week, Off-Peak | 4.35¢/kWh |
Tariff Code: LVTOU
All Year, All Week
| | Period | Network Tariff (inc. GST) |
| --- | --- | --- |
| | All Year, All Week, Peak | 15.39¢/kWh |
| | All Year, All Week, Off-Peak | 3.42¢/kWh |
Tariff Code: FLVTOU
All Year, All Week
| | Period | Network Tariff (inc. GST) |
| --- | --- | --- |
| | All Year, All Week, Peak | 15.39¢/kWh |
| | All Year, All Week, Off-Peak | 3.42¢/kWh |
SA Power
Tariff Code: B2R
All Year, All Week
| | Period | Network Tariff (inc. GST) |
| --- | --- | --- |
| | All Year, All Week, Peak | 18.62¢/kWh |
| | All Year, All Week, Off-Peak | 9.31¢/kWh |
Tariff Code: B2R124OPCI
All Year, All Week
| | Period | Network Tariff (inc. GST) |
| --- | --- | --- |
| | All Year, All Week, Peak | 18.62¢/kWh |
| | All Year, All Week, Off-Peak | 9.31¢/kWh |
Tariff Code: B2RI
All Year, All Week
| | Period | Network Tariff (inc. GST) |
| --- | --- | --- |
| | All Year, All Week, Peak | 18.62¢/kWh |
| | All Year, All Week, Off-Peak | 9.31¢/kWh |
Tariff Code: B2ROPCL
All Year, All Week
| | Period | Network Tariff (inc. GST) |
| --- | --- | --- |
| | All Year, All Week, Peak | 18.62¢/kWh |
| | All Year, All Week, Off-Peak | 9.31¢/kWh |
Tariff Code: B2ROPCLI
All Year, All Week
| | Period | Network Tariff (inc. GST) |
| --- | --- | --- |
| | All Year, All Week, Peak | 18.62¢/kWh |
| | All Year, All Week, Off-Peak | 9.31¢/kWh |
Tariff Code: B2RT
All Year, All Week
| | Period | Network Tariff (inc. GST) |
| --- | --- | --- |
| | All Year, All Week, Peak | 22.34¢/kWh |
| | All Year, All Week, Off-Peak | 11.17¢/kWh |
Tariff Code: B2RTOPCL
All Year, All Week
| | Period | Network Tariff (inc. GST) |
| --- | --- | --- |
| | All Year, All Week, Peak | 22.34¢/kWh |
| | All Year, All Week, Off-Peak | 11.17¢/kWh |
Tariff Code: BSR
All Year, All Week
| | Period | Network Tariff (inc. GST) |
| --- | --- | --- |
| | All Year, All Week, Peak | 18.62¢/kWh |
| | All Year, All Week, Off-Peak | 9.31¢/kWh |
Tariff Code: MB2R
All Year, All Week
| | Period | Network Tariff (inc. GST) |
| --- | --- | --- |
| | All Year, All Week, Peak | 18.62¢/kWh |
| | All Year, All Week, Off-Peak | 9.31¢/kWh |
Tariff Code: MB2RI
All Year, All Week
| | Period | Network Tariff (inc. GST) |
| --- | --- | --- |
| | All Year, All Week, Peak | 18.62¢/kWh |
| | All Year, All Week, Off-Peak | 9.31¢/kWh |
Tariff Code: MB2ROPCL
All Year, All Week
| | Period | Network Tariff (inc. GST) |
| --- | --- | --- |
| | All Year, All Week, Peak | 18.62¢/kWh |
| | All Year, All Week, Off-Peak | 9.31¢/kWh |
Tariff Code: MB2ROPCLI
All Year, All Week
| | Period | Network Tariff (inc. GST) |
| --- | --- | --- |
| | All Year, All Week, Peak | 18.62¢/kWh |
| | All Year, All Week, Off-Peak | 9.31¢/kWh |
Tariff Code: QB2R
All Year, All Week
| | Period | Network Tariff (inc. GST) |
| --- | --- | --- |
| | All Year, All Week, Peak | 18.62¢/kWh |
| | All Year, All Week, Off-Peak | 9.31¢/kWh |
Tariff Code: QB2RI
All Year, All Week
| | Period | Network Tariff (inc. GST) |
| --- | --- | --- |
| | All Year, All Week, Peak | 18.62¢/kWh |
| | All Year, All Week, Off-Peak | 9.31¢/kWh |
Tariff Code: QB2ROPCL
All Year, All Week
| | Period | Network Tariff (inc. GST) |
| --- | --- | --- |
| | All Year, All Week, Peak | 18.62¢/kWh |
| | All Year, All Week, Off-Peak | 9.31¢/kWh |
Tariff Code: QB2ROPCLI
All Year, All Week
| | Period | Network Tariff (inc. GST) |
| --- | --- | --- |
| | All Year, All Week, Peak | 18.62¢/kWh |
| | All Year, All Week, Off-Peak | 9.31¢/kWh |
Tariff Code: RTOUCLI
All Year, Other times
| | Period | Network Tariff (inc. GST) |
| --- | --- | --- |
| | All Year, Other times, Peak | 18.54¢/kWh |
| | All Year, Other times, Solar Sponge | 3.71¢/kWh |
| | All Year, Other times, Off-Peak | 7.43¢/kWh |
Tariff Code: RTOUCLMCI
All Year, Other times
| | Period | Network Tariff (inc. GST) |
| --- | --- | --- |
| | All Year, Other times, Peak | 18.54¢/kWh |
| | All Year, Other times, Solar Sponge | 3.71¢/kWh |
| | All Year, Other times, Off-Peak | 7.43¢/kWh |
Tariff Code: RTOU
All Year, Other times
| | Period | Network Tariff (inc. GST) |
| --- | --- | --- |
| | All Year, Other times, Peak | 18.54¢/kWh |
| | All Year, Other times, Solar Sponge | 3.71¢/kWh |
| | All Year, Other times, Off-Peak | 7.43¢/kWh |
Tariff Code: RTOUI
All Year, Other times
| | Period | Network Tariff (inc. GST) |
| --- | --- | --- |
| | All Year, Other times, Peak | 18.54¢/kWh |
| | All Year, Other times, Solar Sponge | 3.71¢/kWh |
| | All Year, Other times, Off-Peak | 7.43¢/kWh |
Tariff Code: RTOUMCI
All Year, Other times
| | Period | Network Tariff (inc. GST) |
| --- | --- | --- |
| | All Year, Other times, Peak | 18.54¢/kWh |
| | All Year, Other times, Solar Sponge | 3.71¢/kWh |
| | All Year, Other times, Off-Peak | 7.43¢/kWh |
Tariff Code: RTOUCL
All Year, Other times
| | Period | Network Tariff (inc. GST) |
| --- | --- | --- |
| | All Year, Other times, Peak | 18.54¢/kWh |
| | All Year, Other times, Solar Sponge | 3.71¢/kWh |
| | All Year, Other times, Off-Peak | 7.43¢/kWh |
Tariff Code: RTOUMC
All Year, Other times
| | Period | Network Tariff (inc. GST) |
| --- | --- | --- |
| | All Year, Other times, Peak | 18.54¢/kWh |
| | All Year, Other times, Solar Sponge | 3.71¢/kWh |
| | All Year, Other times, Off-Peak | 7.43¢/kWh |
Tariff Code: RTOUCLMC
All Year, Other times
| | Period | Network Tariff (inc. GST) |
| --- | --- | --- |
| | All Year, Other times, Peak | 18.54¢/kWh |
| | All Year, Other times, Solar Sponge | 3.71¢/kWh |
| | All Year, Other times, Off-Peak | 7.43¢/kWh |
Tariff Code: SBTOU
All Year, Other times
Summer, Other times
| | Period | Network Tariff (inc. GST) |
| --- | --- | --- |
| | All Year, Other times, Peak | 24.77¢/kWh |
| | All Year, Other times, Off-Peak | 17.25¢/kWh |
| | All Year, Other times, Shoulder | 9.31¢/kWh |
Tariff Code: SBTOUI
All Year, Other times
Summer, Other times
| | Period | Network Tariff (inc. GST) |
| --- | --- | --- |
| | All Year, Other times, Peak | 24.77¢/kWh |
| | All Year, Other times, Off-Peak | 17.25¢/kWh |
| | All Year, Other times, Shoulder | 9.31¢/kWh |
Tariff Code: SBTOUMCI
All Year, Other times
Summer, Other times
| | Period | Network Tariff (inc. GST) |
| --- | --- | --- |
| | All Year, Other times, Peak | 24.77¢/kWh |
| | All Year, Other times, Off-Peak | 17.25¢/kWh |
| | All Year, Other times, Shoulder | 9.31¢/kWh |
AusNet Services
Tariff Code: NAST11
All Year, Other times
| | Period | Network Tariff (inc. GST) |
| --- | --- | --- |
| | All Year, Other times, Peak | 22.94¢/kWh |
| | All Year, Other times, Off-Peak | 4.78¢/kWh |
Tariff Code: NAST11S
All Year, Other times
| | Period | Network Tariff (inc. GST) |
| --- | --- | --- |
| | All Year, Other times, Peak | 22.94¢/kWh |
| | All Year, Other times, Off-Peak | 4.78¢/kWh |
Tariff Code: NAST11P
All Year, Other times
| | Period | Network Tariff (inc. GST) |
| --- | --- | --- |
| | All Year, Other times, Peak | 22.94¢/kWh |
| | All Year, Other times, Off-Peak | 4.78¢/kWh |
Tariff Code: NAST13
All Year, Other times
| | Period | Network Tariff (inc. GST) |
| --- | --- | --- |
| | All Year, Other times, Peak | 22.94¢/kWh |
| | All Year, Other times, Off-Peak | 4.78¢/kWh |
Tariff Code: NAST14
All Year, Other times
| | Period | Network Tariff (inc. GST) |
| --- | --- | --- |
| | All Year, Other times, Peak | 22.94¢/kWh |
| | All Year, Other times, Off-Peak | 4.78¢/kWh |
Tariff Code: NAST15
All Year, Other times
| | Period | Network Tariff (inc. GST) |
| --- | --- | --- |
| | All Year, Other times, Peak | 22.94¢/kWh |
| | All Year, Other times, Off-Peak | 4.78¢/kWh |
Tariff Code: NEN20
All Year, Weekend
All Year, Other times
| | Period | Network Tariff (inc. GST) |
| --- | --- | --- |
| | All Year, Other times, Peak | 14.16¢/kWh |
| | All Year, Other times, Off-Peak | 4.82¢/kWh |
Tariff Code: NEE24
All Year, Weekend
All Year, Other times
| | Period | Network Tariff (inc. GST) |
| --- | --- | --- |
| | All Year, Other times, Peak | 11.12¢/kWh |
| | All Year, Other times, Off-Peak | 4.60¢/kWh |
Tariff Code: NSP20
All Year, Other times
Summer, Weekend
Summer, Other times
Winter, Weekend
Winter, Other times
| | Period | Network Tariff (inc. GST) |
| --- | --- | --- |
| | Summer, Other times, Peak | 46.20¢/kWh |
| | Winter, Other times, Peak | 36.05¢/kWh |
| | Summer, Other times, Shoulder | 40.78¢/kWh |
| | All Year, Other times, Off-Peak | 4.82¢/kWh |
Tariff Code: NSP21
All Year, Other times
Summer, Weekend
Summer, Other times
Winter, Weekend
Winter, Other times
| | Period | Network Tariff (inc. GST) |
| --- | --- | --- |
| | Summer, Other times, Peak | 45.54¢/kWh |
| | Summer, Other times, Shoulder | 40.20¢/kWh |
| | Winter, Other times, Peak | 35.54¢/kWh |
| | All Year, Other times, Off-Peak | 4.77¢/kWh |
Tariff Code: NSP23
All Year, Other times
Summer, Weekend
Summer, Other times
Winter, Weekend
Winter, Other times
| | Period | Network Tariff (inc. GST) |
| --- | --- | --- |
| | Summer, Other times, Peak | 46.20¢/kWh |
| | Winter, Other times, Peak | 36.05¢/kWh |
| | Summer, Other times, Shoulder | 40.78¢/kWh |
| | All Year, Other times, Off-Peak | 4.82¢/kWh |
Tariff Code: SSP23
All Year, Other times
Summer, Weekend
Summer, Other times
Winter, Weekend
Winter, Other times
| | Period | Network Tariff (inc. GST) |
| --- | --- | --- |
| | Summer, Other times, Peak | 46.20¢/kWh |
| | Winter, Other times, Peak | 36.05¢/kWh |
| | Summer, Other times, Shoulder | 40.78¢/kWh |
| | All Year, Other times, Off-Peak | 4.82¢/kWh |
Tariff Code: NAST12
All Year, Weekend
All Year, Other times
| | Period | Network Tariff (inc. GST) |
| --- | --- | --- |
| | All Year, Other times, Peak | 19.26¢/kWh |
| | All Year, Other times, Off-Peak | 4.69¢/kWh |
Tariff Code: NAST12S
All Year, Weekend
All Year, Other times
| | Period | Network Tariff (inc. GST) |
| --- | --- | --- |
| | All Year, Other times, Peak | 19.26¢/kWh |
| | All Year, Other times, Off-Peak | 4.69¢/kWh |
Tariff Code: NAST12P
All Year, Weekend
All Year, Other times
| | Period | Network Tariff (inc. GST) |
| --- | --- | --- |
| | All Year, Other times, Peak | 19.26¢/kWh |
| | All Year, Other times, Off-Peak | 4.69¢/kWh |
Tariff Code: NASN21
All Year, Weekend
All Year, Other times
| | Period | Network Tariff (inc. GST) |
| --- | --- | --- |
| | All Year, Other times, Peak | 17.42¢/kWh |
| | All Year, Other times, Off-Peak | 4.48¢/kWh |
Tariff Code: NASN2S
All Year, Weekend
All Year, Other times
| | Period | Network Tariff (inc. GST) |
| --- | --- | --- |
| | All Year, Other times, Peak | 17.42¢/kWh |
| | All Year, Other times, Off-Peak | 4.48¢/kWh |
Tariff Code: NASN2P
All Year, Weekend
All Year, Other times
| | Period | Network Tariff (inc. GST) |
| --- | --- | --- |
| | All Year, Other times, Peak | 17.42¢/kWh |
| | All Year, Other times, Off-Peak | 4.48¢/kWh |
Tariff Code: NEN21
All Year, Weekend
All Year, Other times
| | Period | Network Tariff (inc. GST) |
| --- | --- | --- |
| | All Year, Other times, Peak | 15.39¢/kWh |
| | All Year, Other times, Off-Peak | 6.83¢/kWh |
Tariff Code: NSP27
All Year, Other times
Summer, Weekend
Summer, Other times
Winter, Weekend
Winter, Other times
| | Period | Network Tariff (inc. GST) |
| --- | --- | --- |
| | Summer, Other times, Peak | 26.84¢/kWh |
| | Summer, Other times, Shoulder | 23.88¢/kWh |
| | Winter, Other times, Peak | 21.30¢/kWh |
| | All Year, Other times, Off-Peak | 7.71¢/kWh |
Tariff Code: SSP27
All Year, Other times
Summer, Weekend
Summer, Other times
Winter, Weekend
Winter, Other times
| | Period | Network Tariff (inc. GST) |
| --- | --- | --- |
| | Summer, Other times, Peak | 26.84¢/kWh |
| | Summer, Other times, Shoulder | 23.88¢/kWh |
| | Winter, Other times, Peak | 21.30¢/kWh |
| | All Year, Other times, Off-Peak | 7.71¢/kWh |
Tariff Code: SSP21
All Year, Other times
Summer, Weekend
Summer, Other times
Winter, Weekend
Winter, Other times
| | Period | Network Tariff (inc. GST) |
| --- | --- | --- |
| | Summer, Other times, Peak | 26.84¢/kWh |
| | Summer, Other times, Shoulder | 23.88¢/kWh |
| | Winter, Other times, Peak | 21.30¢/kWh |
| | All Year, Other times, Off-Peak | 7.71¢/kWh |
Tariff Code: NEE51
All Year, Weekend
All Year, Other times
| | Period | Network Tariff (inc. GST) |
| --- | --- | --- |
| | All Year, Other times, Peak | 24.27¢/kWh |
| | All Year, Other times, Off-Peak | 5.66¢/kWh |
Tariff Code: NEE52
All Year, Weekend
All Year, Other times
| | Period | Network Tariff (inc. GST) |
| --- | --- | --- |
| | All Year, Other times, Peak | 21.27¢/kWh |
| | All Year, Other times, Off-Peak | 10.46¢/kWh |
Ausgrid
Tariff Code: EA011
All Year, Other times
Summer, Weekday
Non-summer, Weekday
| | Period | Network Tariff (inc. GST) |
| --- | --- | --- |
| | All Year, Other times, Peak | 9.52¢/kWh |
| | All Year, Other times, Off-Peak | 9.52¢/kWh |
| | All Year, Other times, Shoulder | 9.52¢/kWh |
Tariff Code: EA025
All Year, Other times
Summer, Weekday
Non-summer, Weekday
| | Period | Network Tariff (inc. GST) |
| --- | --- | --- |
| | All Year, Other times, Peak | 27.91¢/kWh |
| | All Year, Other times, Shoulder | 6.18¢/kWh |
| | All Year, Other times, Off-Peak | 3.98¢/kWh |
Tariff Code: EA115
All Year, Other times
Summer, Weekday
Non-summer, Weekday
| | Period | Network Tariff (inc. GST) |
| --- | --- | --- |
| | All Year, Other times, Peak | 26.95¢/kWh |
| | All Year, Other times, Shoulder | 4.32¢/kWh |
| | All Year, Other times, Off-Peak | 3.15¢/kWh |
Tariff Code: EA051
All Year, Other times
All Year, Weekday
Summer, Weekend
Summer, Weekday
Non-summer, Weekend
Non-summer, Weekday
| | Period | Network Tariff (inc. GST) |
| --- | --- | --- |
| | All Year, Other times, Off-Peak | 8.72¢/kWh |
| | All Year, Other times, Peak | 8.72¢/kWh |
| | All Year, Other times, Shoulder | 8.72¢/kWh |
Tariff Code: EA225
All Year, Other times
All Year, Weekday
Summer, Weekend
Summer, Weekday
Non-summer, Weekend
Non-summer, Weekday
| | Period | Network Tariff (inc. GST) |
| --- | --- | --- |
| | All Year, Other times, Peak | 23.85¢/kWh |
| | All Year, Other times, Shoulder | 8.19¢/kWh |
| | All Year, Other times, Off-Peak | 3.26¢/kWh |
Tariff Code: EA255
All Year, Other times
All Year, Weekday
Summer, Weekend
Summer, Weekday
Non-summer, Weekend
Non-summer, Weekday
| | Period | Network Tariff (inc. GST) |
| --- | --- | --- |
| | All Year, Other times, Peak | 20.64¢/kWh |
| | All Year, Other times, Shoulder | 7.55¢/kWh |
| | All Year, Other times, Off-Peak | 2.52¢/kWh |
Tariff Code: EA302
All Year, Other times
All Year, Weekday
Summer, Weekend
Summer, Weekday
Non-summer, Weekend
Non-summer, Weekday
| | Period | Network Tariff (inc. GST) |
| --- | --- | --- |
| | All Year, Other times, Peak | 5.69¢/kWh |
| | All Year, Other times, Shoulder | 2.15¢/kWh |
| | All Year, Other times, Off-Peak | 0.97¢/kWh |
Tariff Code: EA305
All Year, Other times
All Year, Weekday
Summer, Weekend
Summer, Weekday
Non-summer, Weekend
Non-summer, Weekday
| | Period | Network Tariff (inc. GST) |
| --- | --- | --- |
| | All Year, Other times, Peak | 5.59¢/kWh |
| | All Year, Other times, Shoulder | 2.13¢/kWh |
| | All Year, Other times, Off-Peak | 1.04¢/kWh |
Tariff Code: EA310
All Year, Other times
All Year, Weekday
Summer, Weekend
Summer, Weekday
Non-summer, Weekend
Non-summer, Weekday
| | Period | Network Tariff (inc. GST) |
| --- | --- | --- |
| | All Year, Other times, Peak | 5.23¢/kWh |
| | All Year, Other times, Shoulder | 2.02¢/kWh |
| | All Year, Other times, Off-Peak | 0.98¢/kWh |
Tariff Code: EA316
All Year, Other times
All Year, Weekday
Summer, Weekend
Summer, Weekday
Non-summer, Weekend
Non-summer, Weekday
| | Period | Network Tariff (inc. GST) |
| --- | --- | --- |
| | All Year, Other times, Peak | 24.05¢/kWh |
| | All Year, Other times, Shoulder | 8.79¢/kWh |
| | All Year, Other times, Off-Peak | 2.05¢/kWh |
Tariff Code: EA317
All Year, Other times
All Year, Weekday
Summer, Weekend
Summer, Weekday
Non-summer, Weekend
Non-summer, Weekday
| | Period | Network Tariff (inc. GST) |
| --- | --- | --- |
| | All Year, Other times, Peak | 19.70¢/kWh |
| | All Year, Other times, Shoulder | 5.86¢/kWh |
| | All Year, Other times, Off-Peak | 1.66¢/kWh |
Endeavour Energy
Tariff Code: N71
Summer, Weekday
Summer, Other times
Non-summer, Weekday
Non-summer, Other times
| | Period | Network Tariff (inc. GST) |
| --- | --- | --- |
| | Summer, Other times, Peak | 21.30¢/kWh |
| | Non-summer, Other times, Peak | 11.52¢/kWh |
| | All Year, Other times, Off-Peak | 7.28¢/kWh |
Tariff Code: N91
Summer, Weekday
Summer, Other times
Non-summer, Weekday
Non-summer, Other times
| | Period | Network Tariff (inc. GST) |
| --- | --- | --- |
| | Summer, Other times, Peak | 22.19¢/kWh |
| | Non-summer, Other times, Peak | 12.41¢/kWh |
| | All Year, Other times, Off-Peak | 8.17¢/kWh |
Tariff Code: N89
Summer, Weekday
Summer, Other times
Non-summer, Weekday
Non-summer, Other times
| | Period | Network Tariff (inc. GST) |
| --- | --- | --- |
| | Summer, Other times, Peak | 21.46¢/kWh |
| | Non-summer, Other times, Peak | 18.18¢/kWh |
| | All Year, Other times, Off-Peak | 10.33¢/kWh |
Tariff Code: N19
Summer, Weekday
Summer, Other times
Non-summer, Weekday
Non-summer, Other times
| | Period | Network Tariff (inc. GST) |
| --- | --- | --- |
| | Summer, Other times, Peak | 21.46¢/kWh |
| | Non-summer, Other times, Peak | 18.18¢/kWh |
| | All Year, Other times, Off-Peak | 10.33¢/kWh |